Jute bags for a sustainable future!
Anticipate a sustainable future without plastic bags ... Give a nice (printed) jute gift bag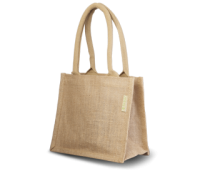 The jute gift packaging items are unique. A bottle of wine in an ecological packaging forms a perfect alternative to 'boring' packing paper or the standard box. The little jute bag is ideal for gifts such as cosmetics or small business gifts.
JuCo comprises 75% jute and 25% cotton. The combination of woven jute and cotton creates a luxurious look in bags and pouches. A beautiful alternative for jute bags and cotton carrier bags. JuCo pouches are sustainable, handy and practical! Eco-Products (previously known as EcoJute) offers different models and sizes, with various finish options.
Jute is a long, soft, shiny vegetable fiber that can be spun into coarse, strong threads. It is produced from plants in the genus Corchorus, which in particular appear in warm, moisty areas. The jute which is used for the bags of Eco-Products is from India. Jute is one of the cheapest natural fibres and is second only to cotton in amount produced and variety of uses.
Eco-Products (previously known as EcoJute) bags are an excellent gift, but can also be very functional in carrying the bag and advertising. Here are some benifits of the Eco-Products bags:
✓ Biodegradable within 1 to 2 years
✓ Re-usable so very friendly for the environment
✓ Very environmentally friendly and sustainable
✓ Very strong
✓ Trendy and hip!
Choose your own print
Even without a print the Eco-Products bags look beautiful, but it is also possible to create your own bag by making use of your own print such as your company logo. Your own Eco-Products bags can be made and ordered from 1.000 pieces.
Promotional Eco-Products bags
Promotional Eco-Products bags are known as 'walking billboards'
Promotional jute bags are the latest major trend. Nowadays, when organizations like to show that they are environmentally aware, the plastic bag has become an outdated advertising medium. A hip, ecological jute carrier bag, emblazoned with your slogan or logo in environmentally friendly ink, is a real eye-catcher. With some justification, promotional jute carrier bags are known as 'walking billboards'!
Printed jute bags
The jute bags described below can be supplied directly from stock. The minimum delivery amount is 100 units. All prices are quoted not including printing; prices of printed bags are available on request. All the promotional jute carrier bags we supply can be printed.