OASUS, sustainable water bottles
Make an active contribution to a sustainable and clean environment.
Inspire your customers responsibly and convey the message of sustainable living with OASUS!
Perfect as a gift, promotional item or for use in the workplace.
Inspire your customers in a responsible manner and give them a give away with a double message.
For the possibilities, you can contact your supplier of business gifts or advertising agency.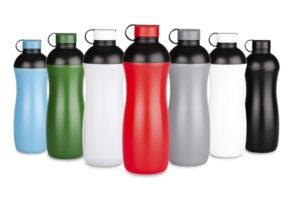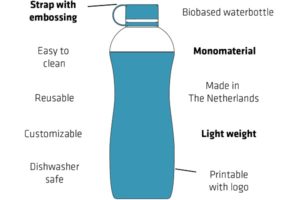 The OASUS water bottle is made entirely from biobased HDPE. By using biobased raw material, a significant reduction in CO2 emissions is achieved compared to standard fossil raw material.
1% of every water bottle sold goes to the UNICEF Plastic Bricks project! UNICEF and partners are working on the Plastic Bricks project in Ivory Coast, which recycles plastic into building blocks for classrooms.
OASUS is the ideal drinking bottle for tap water and reduces the number of disposable bottles.
The advantages of the OASUS are:
✓Refillable (Not suitable for carbonated drinks)
✓Dishwasher safe
✓Free from BPA and other chemicals
✓Doesn't smell or taste like oil plastic, food safe
✓100% recyclable
✓Handy size 500 ml
✓Printed with food safe ink, unique in the market!
✓Available in 7 colors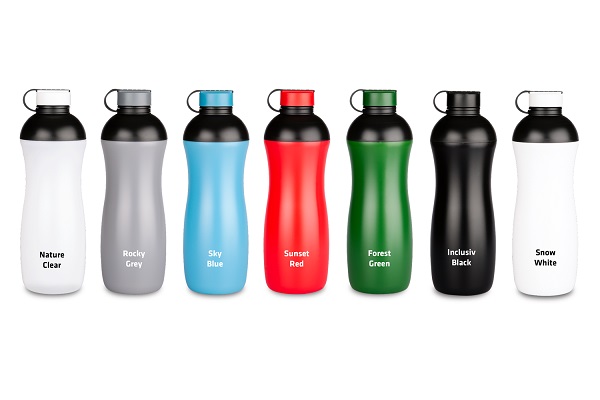 Personalize Oasus water bottles
✓Choose a color:
Rocky Gray – Gray (PMS Cool Gray 9)
Sunset Red – Red (PMS 198)
Forest Green – Green (PMS 350)
Sky Blue – Blue (PMS 7459)
Nature Clear – Transparent
Inclusive black – Black
Snow white – White
✓Black or white top of the bottle
✓Screen printing, 3 colors, on the lower part of the bottle on 1 or 2 sides (screen printing 35 x 35 mm)
✓Printed in 1 color with a size of 200mm x 35mm (so almost all around!)
✓Embossed logo in the cap from 5,000 pieces
✓A bottle in Pantone color from 5,000 pieces
A combination of the above options makes your OASUS completely original and unique!